Student Of The Month
The Student-of-the-Month (SOTM) Committee has the privilege to work with Ashland High School administration to identify and honor one student each month of the school year as Rotary's SOTM. During each 4th Thursday regular meeting, time is designated to honor our SOTM. Criteria for selection are based on Rotary's Four Way test which values Truth, Fairness, Goodwill and Beneficence to all. School staff introduce the student and read feedback from the student's teachers that exemplifies why the student has been chosen. Committee staff present a certificate to the student who is then encouraged to briefly speak to gathered Rotarians and guests. The committee will then work to submit a press release to local newspapers about the honored student.
Student of the Month for February: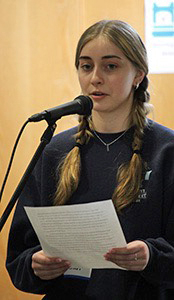 The Student of the Month for February, introduced by Superintendant Samuel Bogdanove, is Aliah John, class of 2023.

Aliah John is a senior at Ashland High School, where she is an editor for The Rogue News, writing, designing, and overseeing other staff members. She is also the president of Model United Nations, the treasurer of the Truth to Power club, and the PR representative for the National Honor Society.

Outside of school, Aliah works at a local jewelry store and spends her free time playing music, with her family, and outdoors. Originally born in a small town on the Oregon coast, Aliah and her family moved to the Ashland area before she started elementary school at the Siskiyou School, which she attended through 8th grade.

Aliah is deeply grateful for the community she grew up in and eager to see what awaits her in college and beyond.

Comments from some of her teachers include:
Marie Davol --> I have had the honor of having Aliah John in my class for the last two years. She is bright, motivated, and incredibly kind. She is a joy to have in class and I am so happy to hear that she is the SOTM. It was well-earned.

Shane Abrams --> Aliah's teachers and peers admire her grit and determination. She's reliably kind, creative, and effective!

Peter Bolling --> Imagine you are with a group of people working on solving a complex problem. Emotions are running high. Everyone has an opinion they are committed to. Not much progress is being made. Then, the person who has been quiet through the discussion pipes up and offers such a well-reasoned and practical response that most of the group nods their heads adan wonders, "Why didn't I think of that?" Well, that is a good description of Aliah's thinking process. She has been quiet, but an invaluable part of our discussions. Her thoughts are motivated by equal parts kindness and practicality. She should run for public office.

Jill Britt --> Aliah has such a clam and kind presence. I can see that people easily feel at ease being around her, and she brings kindness to every interaction. She is also thoughtful, intelligent, and hard-working.
Student Of The Month for January:
Logan Catz
Logan says his current plan is to study environmental science, but plans could change. He would also like to major in biology or math. He has applied to universities and is waiting for replies. But he is most likely to attend either Oregon State University or the University of Michigan.
Logan is cheerful and considerate, brightening up any environment he's in. His peers and teachers appreciate his energy, sense of humor, and reliability!
-Shane Abrams
Logan has the remarkable quality of affability. He is one of those students that others gather around. His quick wit and sense of humor have grown in proportion to his size, who was about 5'9 at the start of last year! (Logan is around 6'4 now. Or more.)
-Peter Bolling
Student Of The Month for December: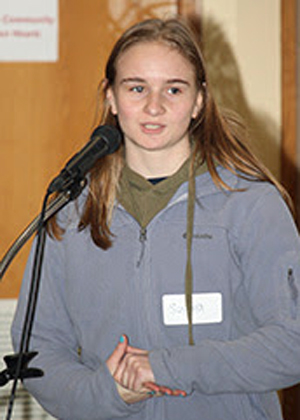 Sophia Cellini
Sophia plans to attend The University of Oregon to pursue a degree in the medical field, possibly kinesiology. She also plans on doing more non-profit work and travel abroad. This past year through the Ashland school district she was a member of peace club and was able to raise money to travel to Peru and assist with construction and renovation in an underfunded community. She plans on going to Portugal (with the peace club again) to do community development. She hopes to make many more volunteer trips in the years to come.
Sophia Cellini is a clear-eyed straight shooter. She does not hide where she stands on issues and you can always count on her being level-headed and fair. She is one of the more convincing students I have in a discussion when she decides to speak.
-Peter Bolling
Sophia is a driven and reliable person. She brings together talent, persistence, and respect in every context she enters!
-Shane Abrams
Coaching Sophia in middle school track I knew she was going to continue on as an incredible athlete and student. Her tenacity and work ethic in combination with her athletic abilities makes her a coach's dream. She is deserving of this award and I look forward to seeing what she does with her future.
-Christie Lawson
Rotary Club of Ashland's November Student of the month: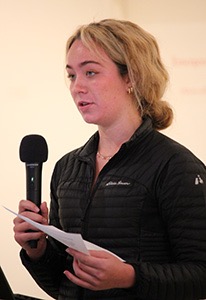 The Student of the Month for November is Julienne Adams.
Julienne Adams is in the class of 2023. Julienne says she learned to value small class sizes and relationships with her teachers in Waldorf school. She likes to run, dance, and cook. She would like to be a pediatric physician, or maybe a psychiatrist.
Teacher comments:

Shane Abrams: Julienne is a compassionate and uniquely motivated young person. Her persistence and drive set an example for us all to aspire to! She is invested in the well-being of her neighbors, her planet, and her classmates, and is certainly on to even more great things!

Erin Flynn AP ENVIRON: I am loving having Julienne in class and I welcome the chance to celebrate all she is and all she brings to our learning environment! I feel as though I have watched Julienne grow up in our small community so I was thrilled to have her sign up to take AP Environmental Science during her senior year. She thinks critically, asks relevant questions about what we are studying, offers insightful perspectives during class discussion and completes high quality lab work. Julienne is intelligent, empathetic, kind, and reflective. She has a calm and confident demeaner and wonderful peer relationships. She is finding the best in her world with a positive attitude and I know her positive outlook will serve her as she embarks on her own journey in the coming year.

Gretchen Kirkpatrick- ECON: Julienne Adams is a brilliant student. I often see her supporting her peers in the classroom. She is an excellent student who strives to do her best and to help others along the way.

Rhiannon Baley AP SPANISH: Julienne is a delight in AP Spanish Language and Culture class--she's polite and always prepared for class. Not only is Julienne a fluent Spanish speaker (from her adventures abroad and her Spanish classes), but she is always willing to help her classmates when they don't understand what's going on in class... Julienne always comes to class with a contagious smile and a positive attitude that is much appreciated.

Peter Bolling POLITICS AND LIT: Julienne is both a fine writer and a sharp thinker. While she has been reserved in many of our class discussions, when she speaks, she commands that attention of others. Julienne is a fine example of the principle that "the wise speak because they have something to say while the foolish speak because they have to say something." Julienne is a great asset to any class discussion.

Jesse Stonewood: I had Julienne in my chemistry class during the school closure. Her work was always top quality and she was a positive presence on Zoom even though my guess is that learning science on Zoom was not her favorite thing. Julienne is a kind and funny person who was always willing to help others. It was apparent from my interactions with her in class that she has earned the respect of her peers.
Michael Scholtes is editor of the Rotary Club of Ashland's newsletter, The Keyway.
Rotary Club of Ashland's October Student of the month
The Student of the Month for October, introduced by Superintendent Samuel Bogdanove, is Abbey Lambert.
Abbey is a senior at Ashland High School. She has an unweighted GPA of 3.98 and a weighted GPA of 4.2.

Abbey earned the College Board's AP Scholar designation and received the College Board's National African American Recognition Award. She is the starting point guard for the Grizz Varsity basketball team, co-president of both the Black Student Union and the Spanish Honor Society, secretary of the Interact Club, and a student tutor. Abbey is also a member of the Math Honor Society, the National Honor Society, and was a student representative on the Ashland School District Equity, Diversity, and Inclusion Committee. Abbey is making her way through the college application process and hopes to study biomedical engineering after graduation. In her spare time, she enjoys going to the movies, listening to Taylor Swift, shooting hoops, and spending time with her dogs.
On her own behalf, Abbey says she is passionate about math and technology.
Teacher comments:
Shane Abrams says Abbey is a tremendous listener and empath. She treats everyone with kindness and dignity. Since beginning high school, she has been on a growth journey to become the self-possessed and empowered citizen she is now.

Gretchen Kirkpatrick writes Abby balances her determination to succeed with a reflection and openness. She has focused on achieving success on her applications for college and has produced impressive work. In addition to her school commitments, Abby builds up the AHS community through her club work.

Rhiannon Batey says Abbey is an outstanding student in AP Spanish Language and Culture. She seeks help when she needs it, offers help to her classmates who are struggling, and always brings her best self to class. She has a positive attitude that enables her to work well with everyone. She is reliable and speaks Spanish very well!
Marissa Watson: I have had the privilege of knowing Abbey for the last few years in a number of different avenues; Algebra 2H, AP Calculus, and as my TA. In every instance, she has been the most polite and respectful young woman with a smile and wave each and every time I see her. I have enjoyed our chats about Taylor Swift, Grey's Anatomy, the Bachelor, and all things Disney. She is truly a joy to be around and brightens my day with her happy uplifting spirit. Abbey has worked hard over the past few years to master her math concepts. When grading homework, I frequently go to her homework assignment to compare answers because her homework is a masterpiece. It is clearly written and organized, with color! The attention to detail she gives each assignment, is that to be marveled. Lastly, I would like to thank Abbey for everything she has done for me over the past few years. She was an exceptional TA and worked diligently on the tasks she was given, without complaint. Out of the kindness of her heart, she stayed after school one day to help me finish my work. It is that level of dedication that separates her from other students. She cares about her work and supports the people around her. Abbey is an exceptional young woman with the biggest heart.
Michael Scholtes is editor of the Rotary Club of Ashland's newsletter, The Keyway
Student of the Month for September 2022
At their meeting Thursday October 20, the Rotary Club of Ashland awarded the Rotary Student of the Month to Violet Hering, member of AHS class of 2023.
Violet is co-captain of the AHS cross-country team. She is the co-president of the AHS chapter of the National Honor Society and also the co-president of the Rotary Interact Club, where last year she organized the annual international fundraiser.
Throughout high school, Violet has worked for the Daniel Meyer pool as a lifeguard and swim instructor. She also worked at the Ashland Rotary Centennial Ice Rink, and she is the student manager of the AHS student tutor center.
Violet has played folk fiddle music since kindergarten. She enjoys spending her summers as a counselor at local Creekside Strings fiddle camps.
Violet is a National Merit Scholarship semifinalist, and she has applied to be considered as a finalist. She is an advanced math student and is currently taking Calculus III at Southern Oregon University. In college, she plans to study biochemistry and pursue a career in medicine and biochemical research.